Hellooo everyone, i am soo sorry me not posting for a long time. I now am just a tiny bit busy but yeah ill still post as much as i can. Sooooooooooooooooooo, summers kinda ending soon and i just thought and thought on something to do thats summery and that will not make people sit and play woozworld for hours. I had a amazing holiday in Greece and Morocco and i just thought some people cant afford/is not really allowed to do stuff so im going to tell you some really awesome and affordable things to do to end summer 2016.
Go to the park!
Now if you live in like Britain or something, you cant just find a theme park right around the corner. What i do is i ask a few friends to come, bring swimming suits, have a picnic and just have fun! It wont be the funnest thing you have done but im leaving my friends so it was nice having a end of year picnic. And just act like a child basically when your in the playground cuz thats what i do!
Make a den
This is probably my favourite thing to do! All you have to do is invite some friends and spend the rest of your day making a den. Its absolutely worth it and you can decorate it with anything you want. Also you can have a sleepover with your friends, i did this before and inside my den we put the TV and we had loads of food and it was just amazing.
Do DIYS!
Alot of DIYS are getting really popular these days such as: DIY Slime, DIY Stress balls, DIY Fairy Jars and just DIY summer room decorations. You only need a few ingredients which are affordable. I Spent days making these things and now my room looks like a pinterest designed room. These are fun to make and i sometimes make these with friends (we made these at a sleepover and it was sooooo fun)
Go to starbucks/costa/any cold drink place or ice cream place
This is also one of my favourite things to do. When it gets really hot, you neeeeeed to have like a drink so i walk to starbucks (which takes like 20 mins for me) and its just sooooooo refreshing and stuff. Im also on a diet this summer and im also vegan this summer like actual vegan so i sometimes like to make my own smoothie and it tastes delicious! i normally have it with a salad and its amazing. I love posting drinks on instagram, it makes my pictures look so professional.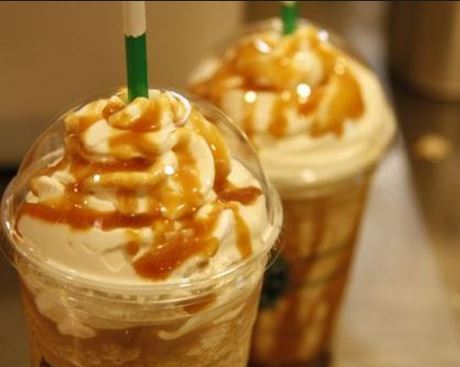 (caramel frappe = goodness)
Okay so i dont think i have space for more (well i do but i think i shall stop speaking cuz im making you guys bored) but yaaaa i have returned so go tell your friends, your friends neighbours, your neighbours friend and so on..
I wanna say Congratulations to Classiest! for winning the WNS lyric thingy.
See you next time. Guys message me things to post. idk really now what to post so message redsnowflake, See ya next time BAIIII xx